PRAISED BY CLIENTS FOR
"THE MOST INFORMATIVE, COMPLETE YET SIMPLE PACKAGE BUNDLE EVER FOUND in SG." -2009
"There wasn't any after-support from the middle-age man who does jailbreak in Toa Payoh with the themes pre-installed on my iPhone with I hated. Apps he installed, I basically able to find out myself via iTunes and other sites. Thanks bro, notification is fixed after a mess out from the guy who previously did for me at Toa Payoh (nicked j2**t). - Mr. Cheng"
Always Reaching Out for You,
Always Willing to Help You..
2 clients were very satisfied with my service! (please do not heed advices / rumors of mystaunchly badservices as there is totally no proof; only a hearsay and 'self-type written' by my competitors in their advertisement which I found personally unethical defamation.)
As for me, a Singaporean, I do black and white factual facts about my services from real testimonials with my clients.
And this is my proof.
(Mr Tan. who is a student from NTU, chose $88,888888 guy's jailbreak service initially, due to a bad, cold and irritated response from him insisting his Tampines house for a jailbreak. Mr. Tan later went for my service and felt it was a terrific experience for him and his friend, jailbroken 2 iPhones @ 1 go.)
(Miss Gloria, an Australian who flew from Perth all the way to Singapore for a jailbreak session with me as Australia did not offer jailbreak services. She chose me because she felt I was the safest and most reliable one to pass her iPhone to a foreign land, Singaporean to jailbreak. She specifically thanked me via Whatsapp, which i installed for her and she was a TERRIFIC client!)
This is the truth, the warm facts and more testimonials I've received from my happiest clients who came to jailbreak with me. Skeptical? Try out first =)
Cost : One time flat fee $25 with my monthly bundle apps.(See below)
SUMMER HOT
MARCH LATEST NEWS!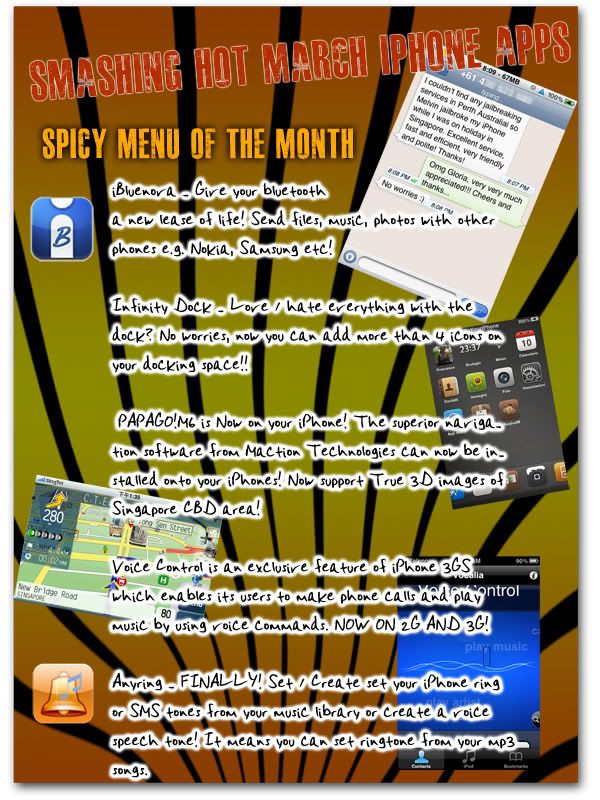 29 bala CHILLI cha cha hot
IPHONE APPS / FEATURES
1) Jailbreak - with Cydia
2) AppSync patch (to play paid itunes apps for free)
3) iPhone Video Recorder (Full Ver.)- Video Recording with power settings (for iPhone 2G / 3G only)
4) Sygic Mobile Maps SINGAPORE / MALAYSIA (Voice-Guided) GPS (Full Ver.) -Sygic GPS navigation software turns your iPhone into a real-time, turn-by-turn voice guided navigation system.(Singapore, KUALA LUMPUR, PULAI, JOHOR BAHRU, TAMPOI, IPOH Maps included)
5) Installous 2.5.2 - Amazing app that allows you to download almost all iTunes apps for free, paid or free DIRECTLY from your iPod touch or iPhone. Updated version!
6) BiteSMS 4.6 - You love your iPhone as much as we do? You text all the time? Want more features? Then biteSMS is for you, with lots of extra features like smileys, Quick Reply, Quick Compose/Quick Call, Privacy, a character/SMS counter and much more!
7) iBlueNova 2.0.1 aka Bluetooth to ALL devices! - iBluenova will allow users to transfer any file via Bluetooth to other devices.
8) Lock Info 2.1.5 - LockInfo gives you access to your email, sms, missed calls, voicemails and calendar information right on your lockscreen. LockInfo supports plugins to expand the information that you can add to your lockscreen.
9) Anyring 3.0.3 (Full Ver.) - FINALLY! Set / Create set your iPhone ring or SMS tones from your music library or create a voice speech tone! It means you can set ringtone from your mp3 songs.
10) Business Card Reader (Full Ver.) - Instant business cards recognition right on iPhone! It works on iPhone 3GS. For older iPhone models macro lens attachment is necessary! Import contact information right from business card to your iPhone contacts!Just take a photo of a business card and New Contact is added
11) iProtect (Full Ver) - It gives you the ability to password protect your iPhone apps.
12) iBlackList 3.1.4 (Full Ver.) - iBlacklist is the best call blocker and sms selector available for the iPhone. It ables you to select from who you want to receive calls and hide messages. It also removes the sms popup preview protecting your privacy, has parental control mode by blocking outgoing calls, can be fully scheduled and many other features. Try it , you'll love it.
13) QuickOffice (Full Ver.) - Quickoffice's integrated application is the essential high-performance mobile office productivity tool for anyone on the go.
14) WhatsApp (Full Ver.) - Want to message your friends and contacts for free? WhatsApp is not another IM or free SMS app. WhatsApp is a direct iPhone-2-iPhone chat application with instant push notifications. View link here
15) NavFone SG D100 (iPhone Edition) - View entire Singapore map OFFLINE with HDB block no.s, road names. Also it can plan your BUS / MRT route journey OFFLINE from current location to another. Best for iPod touches or iPhones with no mobile broadband. View link here
16) InfinityDock - 4 icons not enough? 5 icons on dock to little? Now, let's call infinity to the rescue! You can put unlimited icons on the docking space for quick fast shortcuts!
17) Appbox Pro - The ultimate swiss knife app. Ruler, currency converter, battery life indicator etc all in one app!
18) TVU Player (Full Ver.) - View ChannelNewsAsia or other international TV channels in full screen mode with no time limitation.
19) ProSwitcher - A front end to Backgrounder, which enables multitasking on a Jailbroken iPhone or iPod touch, duplicates the "Pages" metaphor in MobileSafari, including swipe-able switching and X-icon closing, and for good measure adds in the swipe-up-to-close gesture from Palm's webOS "Cards" interface.
20) OverBoard - Expose' for iPhone and iPod Touches. Tired of flipping pages tirelessly to find an app? Expose ALL pages and select the springboard page you want by skipping pages!
21) mPlayer with Diskaid Bundle - MPlayer is a movie player which supports divx, avi formats.
22) Safari Download Manager - A full Download Manager for Mobile Safari. Safari Download Manager is an extension that adds a powerful, highly-configurable download manager to the iPhone's built-in web browser. It is intended as a replacement for other plugins that insert download prompts into web displays, and offers finer-grained control over what is download and what is not, as well as control over running and completed downloads. Multiple downloads can be running at one time, without interrupting your browsing experience.
23) Emoji & SBSettings support - Express yourself freely with those emoticons on iPhone SMS, notes and almost any app!
24) YouRtube - This plugin allows your Youtube app download Youtube videos into your hard disk and watch it offline!
25) MyWi - Create a WiFi HotSpot with a press of a finger! Wherever you are - you can connect your laptop or other mobile device to your iPhone easily and share mobile broadband!(Applicable to iPhone 3G / 3Gs with mobile data plans)
26) SIManager -
SIManager lets you to copy SIM contacts to and from to iPhone and modify and delete(only SIM contacts) the contacts both on SIM and iPhone.
27) my3G - My3G makes Apps believe that they are on WiFi instead of 3G. With My3G, you can now watch HiDef YouTube videos, use Skype/Fring/Other VOIP apps over the 3G network!
28) Voice Control - Voice Control is an exclusive feature of iPhone 3GS which enables its users to make phone calls and play music by using voice commands. Some folks over at this forum have released a Voice Control look-alike app VOCALIA for iPhone 3G and iPhone 2G which works and looks almost exactly as it is on iPhone 3GS. (iPhone 2G / 3G only, a replicate port over)
What is Cydia and it's functions?
Allows you to download Winterboard, MakeitMine, SBSettings, Ringtones and themes DIY! Hassle free and freedom of choice.
Why others' package is so similar and they started rolling out packages LIKE MINE?
Well, for religiously hardwarezone forum fans who have been seeing many jailbreaking service posts, Bundling jailbreaking with Retailed apps was my idea and first came out with monthly bundles.(*Look out forNOVEMBER new awesome bundles coming soon!)

Similar but not exactly, I search high and low to get full version, incredible apps for you at $25 flat nett with fast jailbreaking.

A complete bundle with a home-made PDF manual to learn how to install apps via iTunes.
SMS/CALL me
81131841
for booking of time to jailbreak your iPhone / iPod Touch to get more games and applications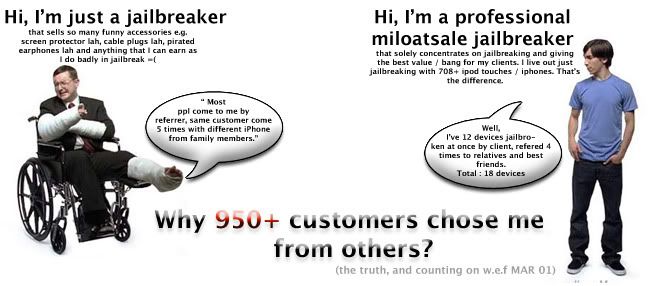 It's totally safe and peace of mind.

I don't get people to come over to my house to jailbreak.

NEED NOT to tell them "Hey, pass me your phone and I'll jailbreak at home. I'll return to you after 3 days"

City hall for meet ups, it's extremely centralized (MRT EW , NS line)

$25

flat rate (Clients don't need to worry what "top up $10 or $5 to make iphone 'more powerful) $25( T w e n t y f i v e d o l l a r s o n l y)

Others charge it at $10 (so CHEAP AH!) because they don't 'much' business. $25 for a professional premium jailbreak is all you need from miloatsale. Cheers!

I do it for them on the spot thus, you'll be able to see your phone in real time transition.

20% of the clients I have every month had their iphones jailbroken from other competitorsand eventually came to me to fix their iphone that their previous jailbreakers have done; (no help support, springboard crashes, installed ICY and created host of corruption problems)

Almost 3 years in iPhone Jailbreak / Unlock experience, from the most difficult ones to theeasiest jailbreaks and obstacles have been through!

There is no such thing as patch your firmware to extent battery life

. (They will simply disable notifications, dim your brightness and set your auto lock to 1min, it's a cheat.)

Why get such thing as compilation apps where some of the apps are so outdated given in a CD ? miloatsale gives you a PDF file with website links that my clients can download the most updated, reliable app from this dedicated app website. As updated as those seen from iTunes App Store.

No jailbreakers out there has NAVfone iPhone edition app, aka Singapore Street Directory Planner Offline (only miloatsale has it)

The o

nly and very first

jailbreaker that gives monthly bundle suite with awesome apps!
The

first jailbreaker to

roll our iKee virus removal services (the rest followed on) !
The

first jailbreaker

to roll out Installous 2.5 and the rest followed suite !
The

first jailbreaker here

to have testimonial records (who says testimonials ain't important eh? Scroll below) !

The only jailbreaker who sends to clients instruction manual (pdf) to install your apps with ease !

The only jailbreaker who gets their record and constantly update you every month with new apps on bundle suite !
"You don't have to be smart to find a jailbreaker,but you'll be intelligent to get miloatsale's jailbreak services. "
Assurance: I've done 950 over iphones/ipod touches since early 2008 from version 1.1.4. 3.0 can be jailbroken and i am able tounlock the baseband of exported 3G / 3Gs iphone versions of05.11.07 baseband (modem firmware) with 3.1.2 firmware. Don't worry,100% quality assured and give yourself afreedom to install any apps fromCydia, Installous, iTunes Apps Store. How Long Does It Takes? 35 minutes - iPhone 3GS, iPod Touch 3rd Generation 32GB, 64GB 65 minutes - iPhone 2G, 3G, iPod Touch 1G, 2G and iPod Touch 3G 8GB. Meeting Place: North Area : Always preferably at Yishun. Central City Hall, Raffles City Starbucks if I have 3 or more devices to jailbreak at one go.Services / Professionalism Jailbreaking Unlocking for different sim card usage Reformatting of iPhone / iPod touches whenlost of devicepassword Installing of Retailed apps on your existing jailbroken device InsertingMOBILE BROADBAND / MMS settings for M1, Starhub Carrier. Uploading of Carrier's exclusive logo; Singtel, M1 and Starhub to spice up carrier image! Jailbreaking / Unlocking iPhone 2G (Exported) iPhone 3G(Singtel / Exported) iPhone 3G (S) (Singtel / Exported) Tethered / Untethered iPod Touch 1G iPod Touch 2G iPod Touch 3GWhy 950 (the truth) customers chose me from others? It's totallysafe andpeace of mind I don't get people to come over to my house to jailbreak. NEED NOT to tell them"Hey, pass me your phone and I'll jailbreak at home. I'll return to you after 3 days" City hall for meet ups, it'sextremely centralized (MRTEW ,NS line) I do it for themon the spot thus, you'll be able to see your phonein real time transition.2.It'sblazing fast to jailbreak,express to unlock. Using aspecial and useful software, I'm able to install those basic apps within 2 minutes. Why useCydia to install those apps and taking so much of your time by other jailbreakers? Besides, you can do it yourself at home lah. 3. Seriously,Cycorder for video recording is athing of the past. Introducing iPhone Video Recorder, you can change the resolution, quality of the video and sounds to produce an even better quality video than Cycorder. Cycorder is free, who doesn't know how to install it via Cydia iPhone Video Recorder is a paid application, and I install for you, my clients will get afull paid version of it.I have been in the forum for months, old post starts from here with praises from customers. I started off from other portals, ebay, phing etc and landed here, on HardWareZone to give more people better services. TESTIMONIALS
Click to Zoom.
Zoom larger? Click on it.
Quoted Testimonials from Page 2.
Hi Miloatsales.
I am the guy who meet you at Wisma on Friday and then again on Sat at Cityhall.
Thanks for the service and good response time.
Highly recommended by me.
Tried him once and will never hesitate to go back to him again.
Terence
[WildCard]
Met him on Saturday (19th September) to unlock my newly arrived 3G.
Was willing to wait for me to arrive (rather late due to my package arriving late at vPost) and patiently helped me do the necessary unlocking and jailbreaking for my 3G.
All the process was done right in front of me at Starbucks (too bad could not get a drink as was still fasting) but had a good time chatting with him while waiting for the iPhone to get done.
All in all, great service provided and super-friendly guy who went the extra mile to show and instruct me on using the phone's extra features (absolute iPhone n00b here).
Really recommended jailnbreaker, especially those who bought phone not from the normal Singtel sources.
Looking forward to get my wife's 2G updated and properly flashed with him soon.

Carol, a client who was frustrated with the previous jailbreaker (from PHING.COM) who did her iPhone, came to my service and helped her being satisfied with the quality of my jailbreak service. =)
Factual Evidence
90 / - clients come to me every month for jailbreak / update / polishing of their apps on their iPhone. Thanks to you all, 950 devices can be achieved easily, soon. Counting down to 1000 iPhones. ( I saved their contact no with the meeting time on calender, see ablurry blue text means there are 4 more clients in a single session)
December 2009 clients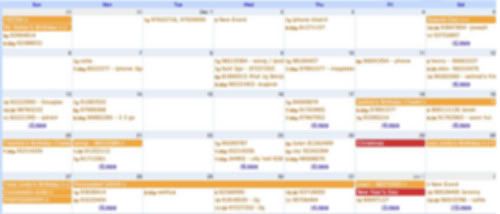 January 2010 Clients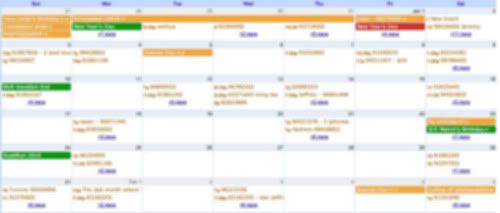 February2010